The Upside Down: New Year, New Seeds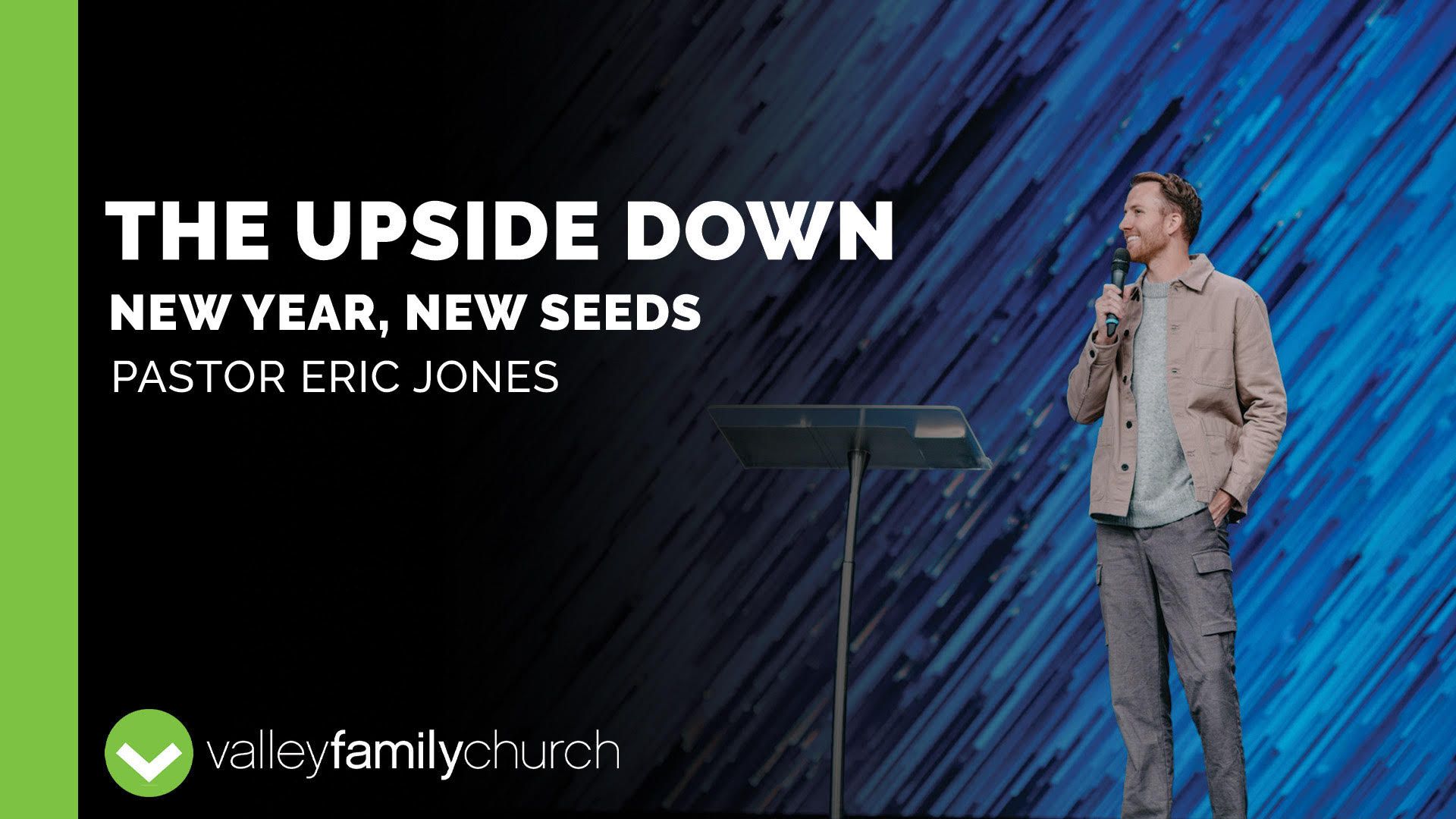 We're back with the 3rd and final part of our Upside Down Kingdom of God January series at VFC where we're we're studying principles like the first will be the last, the greatest will be the servant of all, if you want to reap you must sew, if you want to be exalted you must be humbled, and many more of the upside down teachings of Jesus. We're discovering the differences between the world's point of view and God's viewpoint as we seek to pursue him fervently throughout 2023.
In New Year, New Seeds, Pastor Eric shares an encouraging word all about the law of returns. He gives us 3 things to consider when it comes to our own sowing and reaping and encourages us to sow intentionally into 3 specific areas of our lives throughout the duration of this year. In the New Testament, Jesus tells us:
Luke 6:38 (NKJV) "Give, and it will be given to you: good measure, pressed down, shaken together, and running over will be put into your bosom. For with the same measure that you use, it will be measured back to you."
New Year, New Seeds
Pastor Eric kicks off Part 3 of The Upside Down series with a charming story about his daughter Olive that highlights our natural, instinctive tendency as humans to avoid sharing and instead take what we believe is ours and hold it tight to ourselves in an effort to get and keep something. "That's mine!" is a chronic human condition we're all susceptible to.
We know that this mindset does not align with God's upside down kingdom. Like we see in the message of the Sermon on the Mount, Jesus instructs us to give and it will be given back to us. The world says that if we're to get, we must take. Jesus' reverse way of thinking teaches us to give. Simply put, in God's kingdom, what we give determines what we get.
Interestingly, this verse in Luke has nothing to do with finances! Although that's how we generally interpret the scripture's meaning. Jesus is actually preaching about love…specifically, loving our enemies. In the same context, Jesus is teaching about forgiveness. It is critical for us to cultivate in our spirit that's willing to forgive based on the understanding of how much we ourselves have been forgiven by our Heavenly Father.
We are not to judge others because God has been gracious to us! Jesus is telling us that if we love others, love will be given back to us. If we give condemnation, we will receive condemnation in return. Jesus' teachings are a reversal or flipping of religious norms and our culture's value systems. This is the upside down kingdom principle of sowing and reaping.
Galatians 6:7-9 (NKJV) Do not be deceived, God is not mocked; for whatever a man sows that he will also reap. For he who sows to the flesh will of the flesh reap corruption, but he who sows to the Spirit will of the Spirit reap everlasting life. And let us not grow weary in doing good, for in due season we shall reap if we do not lose heart.
God's kingdom operates similarly to a farmer planting seeds, as we see in Paul's lesson to the people of the agrarian community of Galatia. In every area of life, seeds must be planted into the soil. Then, through a process of sun, water, and sunlight, those seeds produce fruit. This is the principle of sowing and reaping, or the law of returns. What we do and the decisions we make (i.e. where we invest our finances, our time, our energy, and our thoughts) produce results in our lives.
It's important to keep in mind that sowing and reaping is not one-for-one trading. The things that you put in are not always proportionate to the things you'll get out. If you plant an apple seed, you won't harvest apple seeds; you'll produce an apple tree that in turn produces more apples. There is power in filtering our decisions, thoughts, actions, words, time, and resources God gives us through the lens of sowing and reaping!
Our seemingly insignificant decisions eventually sculpt our character and define who we become. The things we do, do something to us. As we continue through New Year, New Seeds, we're exploring 3 considerations to make when it comes to our daily sowing and reaping. Let's make the law of returns practical and apply it our lives as we embrace this upside down kingdom of God!
1. Consider the Soil
Everything in the garden of faith starts with the soil. Every seed that is sown depends on the readiness of the soil that it is sown into. Without good soil, the sowing of seeds will not produce. In New Year, New Seeds, Pastor Eric shares a local example to help us understand the importance and process of cultivating healthy soil. When it comes to sowing and reaping, we must consider our soil, our environment, before planting our seeds.
Luke 8:5-8 (NKJV) A sower went out to sow his seed. And as he sowed, some fell by the wayside; and it was trampled down, and the birds of the air devoured it. Some fell on rock; and as soon as it sprang up, it withered away because it lacked moisture. And some fell among thorns, and the thorns sprang up with it and choked it. But others fell on good ground, sprang up and yielded a crop of hundredfold.
Jesus is once again helping us understand the upside down kingdom of giving instead of taking in order to receive. We need to be mindful of good soil! So what is good soil? How do we plant the seeds of our lives into soil that is cultivated for growth and prosperity? Jesus answers that question for us in Luke.
Luke 8:15 (NKJV) But the ones that fell on the good ground are those, who, having heard the word with a noble and good heart, keep it and bear fruit with patience.
Simply put, the seed is God's word and good soil is a heart that is open and receptive to God and His Word. The question we must ask ourselves is, how are our hearts? How is the environment of our heart? Before we plant seeds, we need to tend to the condition of our soil, our hearts.
Proverbs 4:23 (NLT) Guard your heart above all else, for it determines the course of your life.
Proverbs 4:23 (NKJV) Keep your heart with all diligence, for out of it springs the issues of life.
Everything we experience, feel, and know in life begins in our heart. This is why two people can experience the exact same circumstances and have completely different results; the condition of our hearts drastically impacts our perspective and worldview. Are our hearts burdened with bitterness, unforgiveness, or cynicism? Or are our hearts free, healthy, and walking in the rhythms of God's grace?
Remember, Jesus assures us that no matter the current condition of our hearts, all soil can be made good again! All it takes is a little bit of gardening, through prayer, repentance, removal of "rocks and weeds" like unforgiveness, worry, or fear.
Hosea 10:12 (NLT) I said, 'Plant the good seeds of righteousness, and you will harvest a crop of love. Plow up the hard ground or your hearts, for now is the time to seek the Lord.
We must consider what we're sowing into! Let's commit to gardening and tending to our hearts when needed so that we're prepared to sow seeds and reap the gifts God has intended for us. Amen!
Discussion:
What seeds do you plan to plant this year? How will the soil you plant them in impact your results?
In our daily lives, how do we know the difference between hard ground and fertile ground?
When we abide by Hosea 10:12, how do we plow up the hard ground of our hearts? What does this transformation look like in our lives?
2. Consider the Seeds
Galatians 6:8 (NKJV) For he who sows to the flesh will of the flesh reap corruption, but he who sows to the Spirit will of the Spirit reap everlasting life.
Notice that the actual seed itself also has a direct impact as to what's produced in our lives. The combination of many "little" decisions we make day-to-day form big results in our lives. These seeds either lead us toward corruption, or they lead us toward everlasting life with Jesus. It's our seemingly insignificant choices that sculpt our characters and either harden them into stone or free them to flourish in God.
Pastor Eric shares an example of this principle in New Year, New Seeds that helps us to understand the truth of the important role our seeds play in our long-term growth and reaping. Sowing and reaping can have either negative or positive implications. If we want positive results, we have to intentionally plant positive, nourishing seeds.
It's all too easy to get so busy in our lives that we're just going through the motions habitually and we rarely stop to consider the things we're doing or the thoughts we're allowing to occupy our minds. We rarely pause to consider the shows we're watching, the way we're investing our time and energy, and even the attitudes we wear day-to-day.
We must ask ourselves, are we happy with the results in our lives or not? It's time to intentionally review, observe, and consider the seeds that we're sewing day in and day out–the seeds that are gradually shaping and molding our lives. We all have seeds to sow and, whether we realize it or not, we're planting and depositing our seeds constantly. The law of returns isn't a command from heaven; it's a statement about reality. We make our decisions and our decisions make us.
Our seeds have the potential to produce bountiful harvest in our lives, so let's sow intentionally! It's time to take hold of our thoughts, our narratives, our worldviews, our core beliefs, our self-image, our inner dialogues, our habits, our rhythms, our disciplines and shift into alignment with God's word so that we may sow good seeds and reap an even better harvest. Amen!
Discussion:
"We make our decisions and then our decisions make us." Think about the seeds you're sowing and share what this statement means to you personally.
We know that the quality of the seed directly correlates with the quality of the fruit it produces. What seeds have you sewn so far in 2023 and what fruit are you expecting those seeds to produce?
Think about a time when you chose to sow into the Spirit instead of into the flesh. How did you know you made the right choice?
3. Consider the Sowing
Once we've cultivated good soil and reflected on our seeds, it's time to actively and intentionally sow the seeds–plant them and put them to work.
2 Corinthians 9:6-7 (NLT) Remember this - a farmer who plants only a few seeds will get a small crop. But the one who plants generously will get a generous crop. You must each decide in your heart how much to give. And don't give reluctantly or in response to pressure, "For God loves a person who gives cheerfully."
Regardless of our varying family circumstances and careers and life seasons, we all have many seeds available to sow this year. In New Year, New Seeds, Pastor Eric encourages us to commit to intentionally sowing into 3 specific areas in 2023: our families, our own spiritual growth, and our church.
A) Sow into Family
The greatest gift that God has ever given us is family. Even in pain and suffering and hurt and distance, we believe that God can make graves into gardens! Remember, the smallest church you'll ever pastor is your family! In the busyness of the world–the demands of our careers, routines, sports, and school–our families easily slide to the back burner.
Towards the end of his message, New Year, New Seeds, Pastor Eric shares a powerful story about his own dad that highlights the importance and long-term benefits of prioritizing and sowing into our families. When we choose to stay late and show up early for our families and sacrifice things that may benefit us to lift up those in our families, we are sowing good seeds into good soil and honoring God's upside down kingdom principle of reaping and sowing.
B) Sow into Spiritual Growth
Matthew 6:33 (NKJV) Seek first the kingdom of God and His righteousness, and all these things shall be added to you.
All throughout the Bible, God constantly invites us to seek Him. If we're to grow in our relationship with God this year, it's going to take some action! It's going to take time, energy, effort. There is no better investment, no hour of sleep in the morning worth sacrificing to get alone with our Creator.
So often, Christians forgo developing an intimate relationship with our Heavenly Father and settle for something so much less in the name of comfortability.God in heaven desires to know us for who we are and to spend time with us and cultivate intimacy with us!
It starts with setting achievable goals–none of us are reading the entire bible from start to finish in a week or embark on a water-only 40-day-fast starting tomorrow. A good starting point is to just get in God's Word every single day. Whether you read your bible for 10 minutes or an hour, commit to hearing from Him and actively seeking him intentionally and daily. In New Year, New Seeds, Pastor Eric shares a quote with us from another Pastor that says, "Reading the Bible is a lot like eating breakfast. See, I don't remember what I ate for breakfast three days ago, but I know it nourished me and I'm glad I had it."
When we get in our Bibles–reading it, engaging in it, and loving it–we will see our seeds produce a compounding effect of spiritual growth in our lives. Amen!
C) Sow into Church
We live in a world that does not understand why we gather together every week as believers. Our world does not have a framework for Jesus, for the Bible, and especially for church. Our world tries to draw our attention away to shiny, convenient, comfortable, and easy things. Our world treats church like going to the movies–what's playing and how much is it going to cost? Our world wants church to be a place to consume and not be asked for anything.
That's not the vision Jesus has for His church! The church is the hope and light of the world! Even when we're not in the building anymore, when we go out into the world, we are still the church. God put us in this dark world to be a light for Him! It's time for us to sow into our church. It's time to serve or get involved in a small group or pray for our church and pray for one another.
Hebrews 10:25 (NLT) And let us not neglect our meeting together, as some people do, but encourage one another, especially now that the day of his return is drawing near.
Too often, church becomes a place where we window shop and only come in when it's convenient. We need to be in church, loving each other, encouraging our kids to know and love and meet one another. We need to get together so we can encourage each other and go out into the world and be a light for Jesus. We need our church community, our church family.
Psalm 92:13 (NKJV) Those who are planted in the house of the Lord Shall flourish in the courts of our God.
Every church has 3 key resources: God, humans, and finances. Without God, we have nothing. The death, burial, and resurrection of Jesus Christ 2,000 years ago was all because of God's goodness. Our job as humans in the church is to sacrificially love and serve one another. And it has been this way for 2,000 years! We are called as believers to give financially to our home church, wherever that may be. It's our job to supplement with our community and give financially. Amen!
Malachi 3:10 (NKJV) Bring all the tithes into the storehouse, That there may be food in My house, And try Me now in this," Says the Lord of hosts, "If I will not open for you the windows of heaven And pour out for you such blessing That there will not be room enough to receive it.
Discussion:
What are some ways you can personally sow into your family?
What does it look like for you to sow into our church intentionally?
When it comes to reading your Bible daily and sowing into spiritual growth, what plan is realistic and achievable for you?
Prayer:
Lord, we love you and we are so grateful for this community that you've blessed us with. Thank you for giving us your word that is living and active and sharper than a double edged sword. Through this message, God, we ask that you speak to us in the ways that we need to hear it. Help us to be intentional in our sowing of seeds throughout this year and help us to do so in the places that matter most to you. Father we ask that you give us the boldness to live in your upside down kingdom and be a light for you to those around us. We ask these things in Jesus' holy name, Amen!